I know there are so many delicious recipes out there for banana bread, but I'm going to go ahead and share this Blue Ribbon Banana Bread recipe anyway, just because it is a family favorite. This bread is sweetened with brown sugar giving it a rich flavor with hints of caramel and molasses. Plus, with 3 whole bananas in this loaf, it's loaded with banana flavor, too. And because it's a quick bread, there's no yeast needed and no rising time. You can have this warm loaf of homemade banana bread on the table in just a little more than an hour. (And if you like moist and flavorful quickbread recipes, check out my recipe for Double Chocolate Zucchini Bread.)
The origins of this classic banana bread recipe have been lost to history. It's one of those recipes that was handed down via a newspaper clipping, which I then slightly modified over the years. (Have I dated myself here?! When I was a kid, the news arrived in actual newspapers!) The original recipe claimed to be a prize-winner at a local county fair, hence the reason I call it "Blue Ribbon" banana bread. Any historical claims to this recipe aside, however, I think it's fair to say that this banana bread really is a winner!
And baking a loaf of banana bread is an act of frugality, making good use of those over-ripe bananas that would otherwise be tossed. But it's also an exercise in creature comforts. A loaf of banana bread in the oven infuses the whole house with an air of coziness. A slice of warm banana bread, slathered in butter and accompanied by a steaming hot mug of coffee is heavenly – truly one of my most favorite comfort food treats. You also can't go wrong with a slice of this moist banana bread and a smear of peanut butter – especially right before bed and preferably eaten while standing at the kitchen counter!
A quick word about ingredients:
All-purpose flour – To add a little more nutrition, you may substitute up to 50% of the all-purpose flour with whole wheat flour or whole grain spelt flour.
Brown sugar – Use light or brown sugar, depending on your preference. If you don't have brown sugar on hand, regular granulated sugar will work, too.
Sour cream – If you don't have sour cream, you can use plain yogurt, kefir, or buttermilk. Whatever you do, don't skip adding some kind of sour milk product because the baking soda needs this acidity in order to make the bread rise.
Vanilla extract – I prefer to use pure vanilla extract instead of imitation, but use whatever kind you have on hand.
Chopped pecans or walnuts – If you enjoy a bit of nuttiness in your banana bread, add in some chopped pecans or walnuts. For a more pronounced nutty flavor, toast your chopped nuts for 3-4 minutes in a dry skillet over medium heat before using in the recipe. Be sure to stir or shake them frequently as they toast and don't allow the nuts to burn. They're ready as soon as they become fragrant.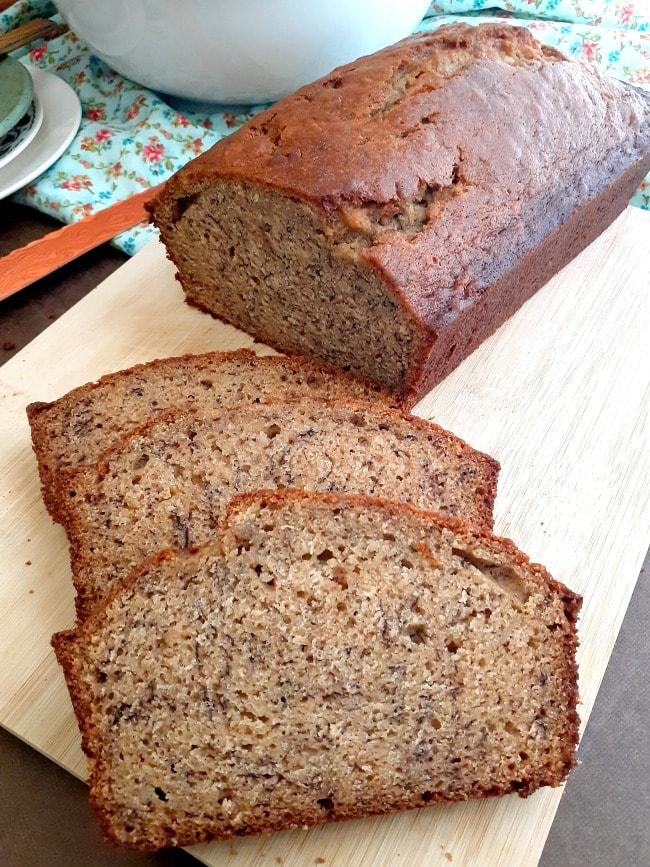 Cook's Tips:
For a totally delicious Maple Nut Banana Bread variation of this recipe, use ⅔ cup maple syrup in place of the brown sugar, and replace the vanilla extract with maple extract.
If you're a chocolate lover, add a handful of chocolate chips to the batter.
For tender bread, don't overmix. To avoid this, I use only a whisk to combine the eggs and sugar and then switch to a wooden spoon to mix the batter. But if you prefer to use an electric mixer or stand mixer, be sure to mix just until combined.
As soon as the batter is mixed, pop it into the heated oven immediately. Allowing the batter to stand too long before baking may result in bread that is sunken in the center.
After removing from the oven, allow the bread to cool for 10 minutes, then turn out onto a wire rack to finish cooling.
Don't slice the bread while it is hot or it may crumble.
To store banana bread, wait until it is completely cool, then wrap it in foil (or another food-safe wrap) or in an airtight container and store at room temperature. You may also freeze the banana bread for 3-4 months.
---
If you try this recipe, I hope you love it! Please let me know in the comments below.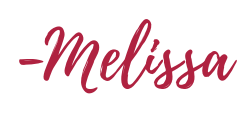 *As an Amazon Associate I earn from qualifying purchases. This post may contain Amazon or other affiliate links, which means I will earn a commission at no additional cost to you if you click through and make a purchase.*
Print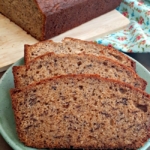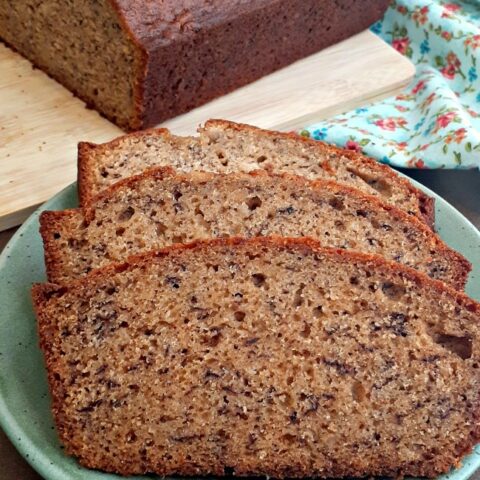 Blue Ribbon Banana Bread
---
Author:

Total Time:

1 hour 20 minutes

Yield:

8

Servings

1

x
2 cups

all-purpose flour

1 teaspoon

baking soda

½ teaspoon

salt

¼ teaspoon

cinnamon

½ cup

melted butter

1 cup

loosely packed brown sugar

3

eggs, beaten

2 tablespoons

sour cream

3

ripe bananas, mashed

½ cup

chopped pecans or walnuts, toasted (optional)
---
Instructions
Preheat oven to 350 degrees Fahrenheit.
In a large mixing bowl, sift together flour, baking soda, salt, and cinnamon. Set aside.
In a second mixing bowl, whisk together butter, brown sugar, eggs, and sour cream. Stir in mashed bananas.
Add wet ingredients to the dry ingredients and mix well. Stir in toasted nuts, if using.
Pour batter into well-greased 9×5-inch loaf pan. Bake for 55 minutes, or until a toothpick inserted into the center of the loaf comes out clean.
Cool for 10 minutes in the pan, then remove loaf from pan and allow to finish cooling on a wire rack.
Prep Time:

20 minutes

Inactive Time:

0 hours

Cook Time:

1 hours
For more great recipes, visit my friends at:
Full Plate Thursday at Miz Helen's Country Cottage
Meal Plan Monday at Southern Bite