I come from a long line of Christmas cookie makers. Like my mother and grandmother before me, the holidays awakens an urge in me to bake – I am talking dozens and dozens of cookies. December inevitably turns into a cookie avalanche around here. Luckily, cookies make great gifts. I give them to the neighbors and mail them out to friends and family in care packages. I also try and stash as many away in the freezer as possible so that I can serve them on Christmas day and New Year's Day. These Key Lime Snowball Cookies, however, never made it that far.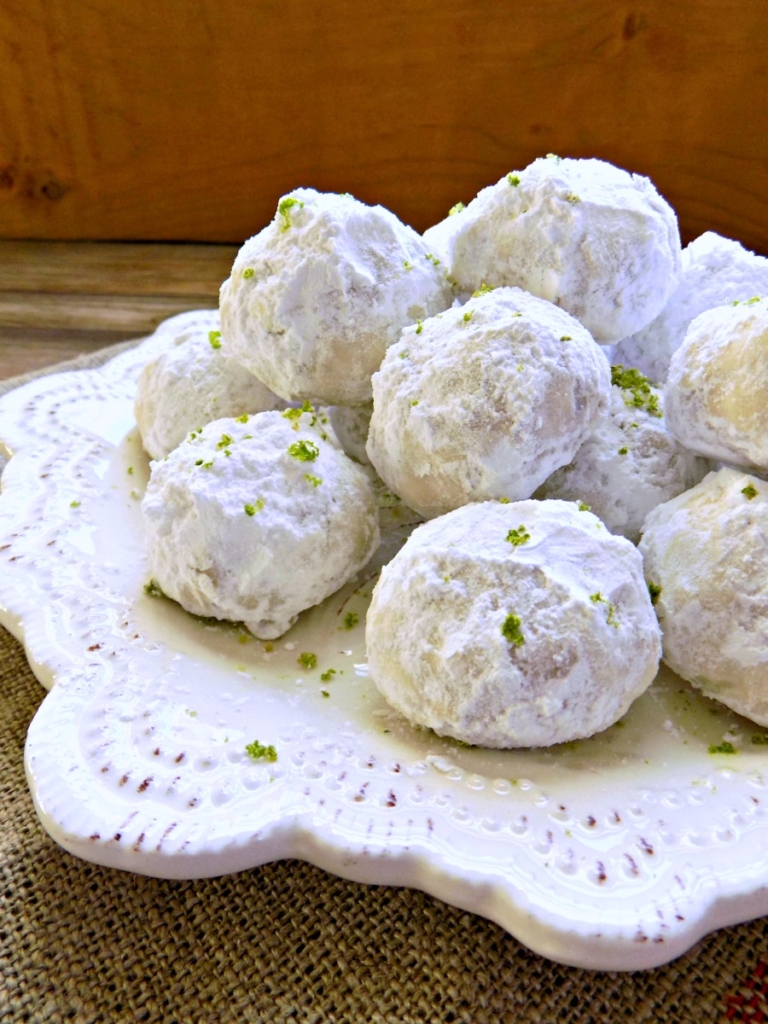 Don't get me wrong – I made plenty of these snowballs. This recipe, in fact, makes about 4 dozen. They were so delicious, though, that they were devoured before I could hide any away for gifts or for the freezer. I mean, regular snowball cookies are melt-in-your-mouth delicious anyway, but with a hint of lime, they are irresistible (and in our house, I mean that literally).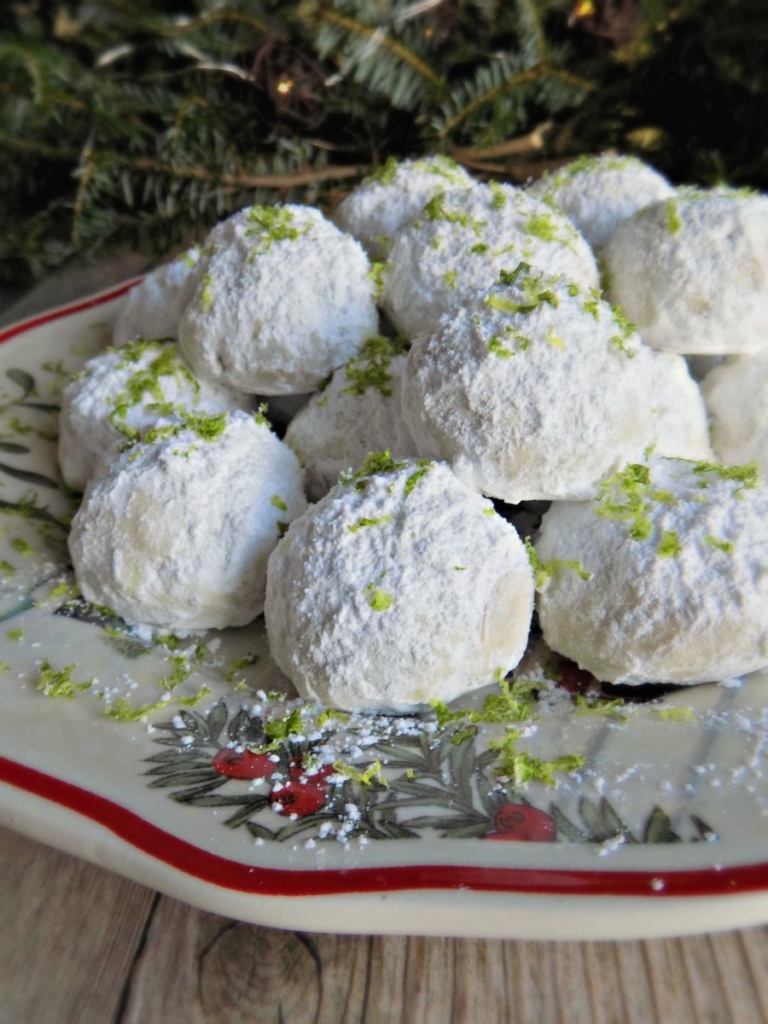 Now, I did use actual key lime in this recipe, but regular Persian limes will do the job just fine. If you can pick a sack of key limes at the grocery store, or if you are lucky enough to have a key lime tree in your backyard, that's great. If you can't find key limes or don't want to go through the trouble of tracking them down, just use regular limes. And bottled lime juice just won't work here because we're using the zest, not the juice. (But don't let that lovely lime juice go to waste! Juice those limes and then refrigerate or freeze the juice to use in marinades, salad dressing, cheesecake, chili or wherever else you use lime juice.)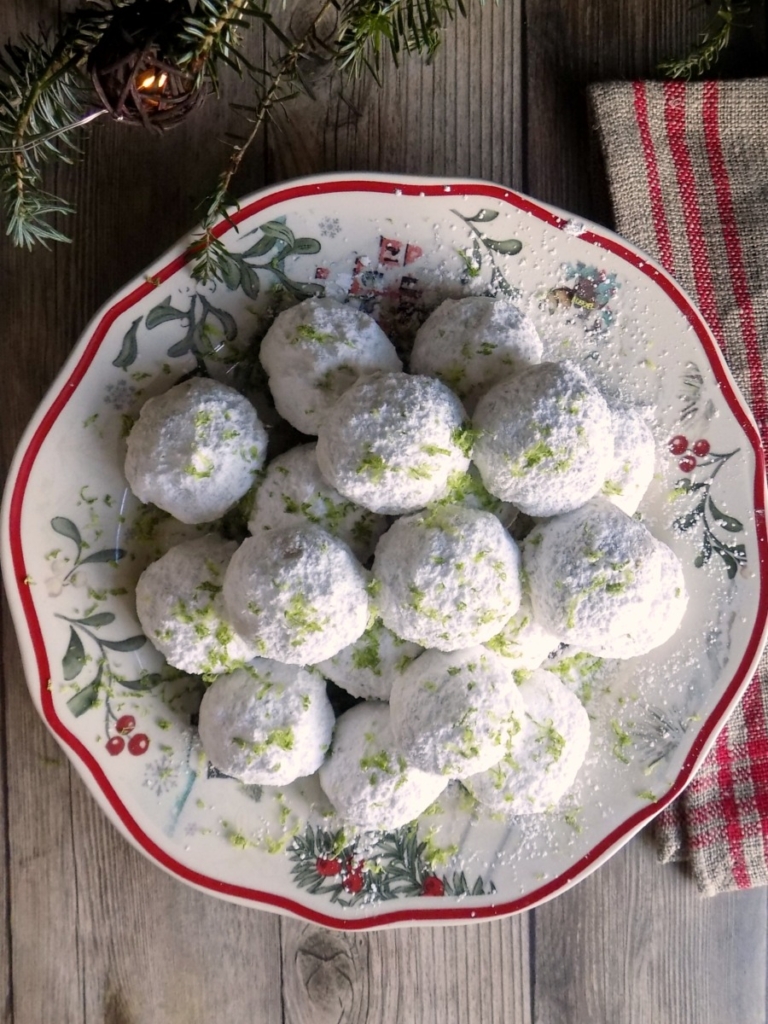 So if you'd like to give a little tropical flavor to your holiday baking, try these Key Lime Snowball Cookies. They will surely bring a little extra cheer to any holiday gathering.
I hope you enjoy!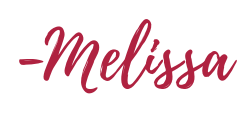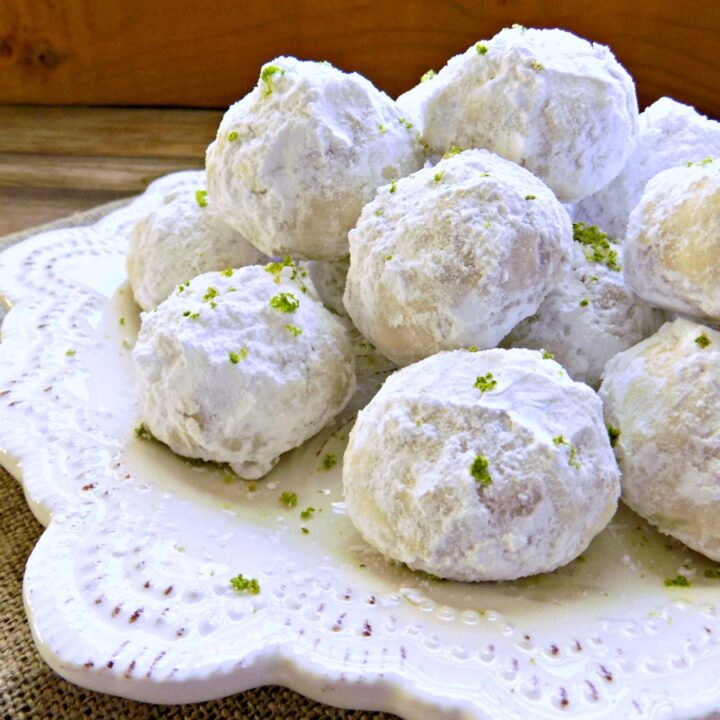 Key Lime Snowball Cookies
Ingredients
1 cup unsalted butter, softened
1/4 teaspoon salt (omit if using salted butter)
1/4 cup sugar
1 teaspoon vanilla extract
2 tablespoons finely-grated lime zest
2 cups finely chopped pecans
2 cups unbleached all-purpose flour
16 ounces powdered sugar
Instructions
Heat oven to 325°F
In a dry skillet, lightly toast pecans on the stovetop over medium heat for 2-3 minutes. Be sure not to burn them. Set aside to cool.
In a mixing bowl, cream butter and sugar together until light and fluffy. Mix in vanilla and lime zest.
Mix in the toasted pecans and flour until well-combined.
Scoop dough into 1 1/2-inch balls, and place 1 inch apart on an ungreased cookie sheet.
Bake for 16-17 minutes, or until they lightly browned on the bottom of the cookie.
While cookies are still warm, roll them in the powdered sugar and set aside to fully cool.
When cookies are completely cool, roll again in powdered sugar.
Dust with extra powdered sugar and lime zest before serving.
Store in an airtight container, or freeze.