These bone-in chicken breasts (also called split chicken breasts) are made in the slow cooker, and turn out juicy, tender, and flavorful every time. Serve them as a main dish accompanied by your favorite sides. Or shred them to use for casseroles, tacos, or soups. As an added bonus, you can remove the meat and put the bones right back into the slow cooker to make a healthy batch of homemade bone broth. So if that sounds good to you, and you're wondering exactly how to cook split chicken breasts, then please read on! And if you want to know more about cooking old-fashioned cuts of meat, then check out the recipe for Smothered Swiss Steak.)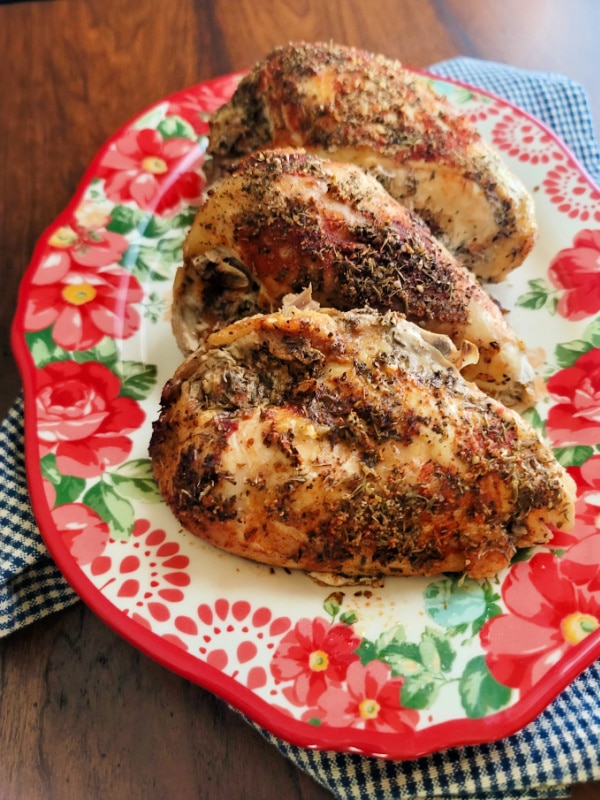 Going to the grocery store these days, you never know what you will or won't find. One day there may be boneless, skinless chicken breasts on the shelf, another day, the shelf may be bare. Couple that with the skyrocketing prices and grocery shopping has become a bit of an adventure, to say the least. It's easy to get overwhelmed by it all.
And so in order to cope with today's uncertainties, I'm focusing on returning to basics. To eat simply, to be more flexible, and not rely so heavily on conveniences like boneless, skinless chicken. I like to think of my grandmothers and great-grandmothers. They were not only experts in frugality and resourcefulness, but they also didn't have a dizzying array of items to choose from at their local grocery store. You can bet that back in the day, Grandma purchased whole chickens or bone-in chicken parts because boneless, skinless chicken breasts only became a thing around 30 or so years ago.
Why Split Chicken Breasts?
Of course, bone-in chicken thighs and chicken drumsticks or leg quarters are also delicious. But if you prefer white meat over dark meat, then split chicken breasts are the answer.
And I have been finding lately that bone-in split chicken breasts are both affordable and readily available at the supermarket. Aside from this, they're also superior to boneless breasts when it comes to flavor. The boneless breasts are convenient for sure, but they can be lacking in flavor and tend towards the dry side. A bone-in chicken breast is much more flavorful and juicy. Plus, you have the added bonus of using the leftover bones to make a batch of delicious chicken bone broth. Waste not, want not!
How to Cook Split Chicken Breasts:
In fact, today I rarely ever come across a modern recipe that calls for a bone-in chicken breast, so I'm guessing there are probably a lot of folks who aren't familiar with how to cook them. But that's OK, because I'm an old-fashioned kind of gal, and I'm here to tell you how to prepare a juicy split chicken breast.
And in this recipe, we'll be using the crockpot. Because while it's not hard to roast the split chicken breasts in the oven, I often turn to an even easier preparation by using my slow cooker. This is an especially good method to use on a busy day, or if you need white meat chicken to use in a casserole, chili, or another dish later. You don't get a crispy skin from the crockpot, but this is easily remedied by popping the cooked chicken breasts under the broiler for a few minutes before serving if desired.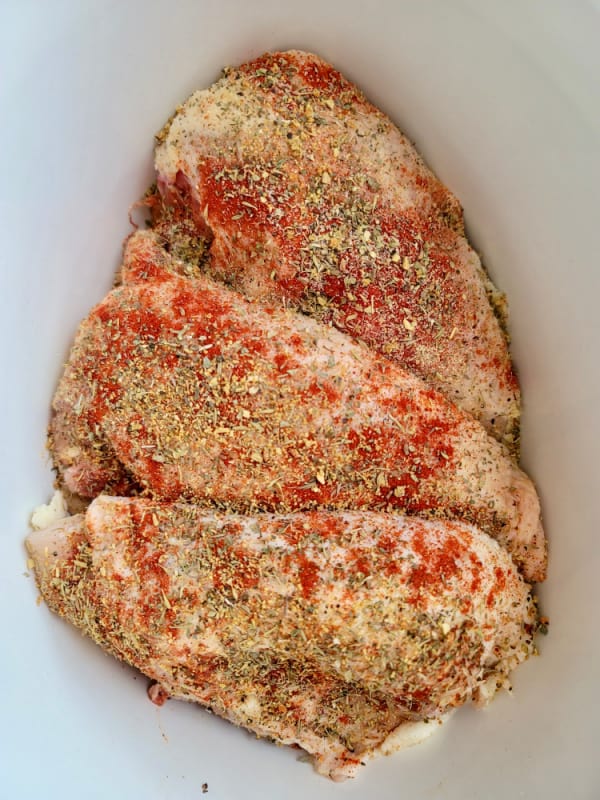 What Ingredients do I need to make Tender, Juicy Slow Cooker Split Chicken Breasts?
The ingredients for this Split Chicken Breast recipe are simple:
Split Chicken Breasts – These are bone-in, skin-on chicken breasts. It's OK if the breasts overlap a slight bit in the slow cooker, but you don't want them to completely cover each other.
Salt – I like to use flaky Kosher salt or sea salt.
Seasonings – My favorite seasonings to use in this recipe are listed in the recipe below, but you can use a mix of whatever you like. There are premade seasoning blends that will work or just use what you prefer. I find that dried herbs and spices work best to make a rub for the chicken. If you want to use fresh herbs, chop them and garnish the chicken with them after the chicken is cooked.
Celery, carrots, and Onions: Use coarsely chopped celery, carrots, and onion to serve as a bed for the chicken in the slow cooker.

Tips for making Split Chicken Breasts:
Fill your crockpot but don't overfill. You can make as many bone-in chicken breasts as you want with this recipe. Be sure not to overcrowd the crock, and don't use more chicken than will fit in a single layer.
Rub with butter or olive oil (optional) – I find that rubbing the chicken breasts with a little bit of fat adds some extra flavor and makes it juicier, but this is an optional ingredient.
Make a sauce or gravy with the drippings. Use the drippings as a sauce straight from the crockpot. You can also make gravy. Whisk the drippings with a little bit of flour or cornstarch, add about a cup of water or chicken broth and simmer on the stove for 5-10 minutes until thickened.
Optional Ingredients: Squeeze a little fresh lemon juice over the cooked chicken, or sprinkle with fresh chopped herbs.
Make broth. Take the leftover bones from the chicken and place them back into the crockpot. Add enough water to cover the chicken bones by about 2 inches. Cook on low for 6-8 hours. Strain the bones, and allow the broth to cool before storing it in the fridge.
Serve them up. To serve the chicken breasts, you can serve them on the bone or off. I often cut the cooked breast from the bone, and then slice it before serving. And if you want crispy skin, simply transfer the cooked chicken breasts to a broiler-safe pan and broil for 2-3 minutes, then proceed to slice up the chicken.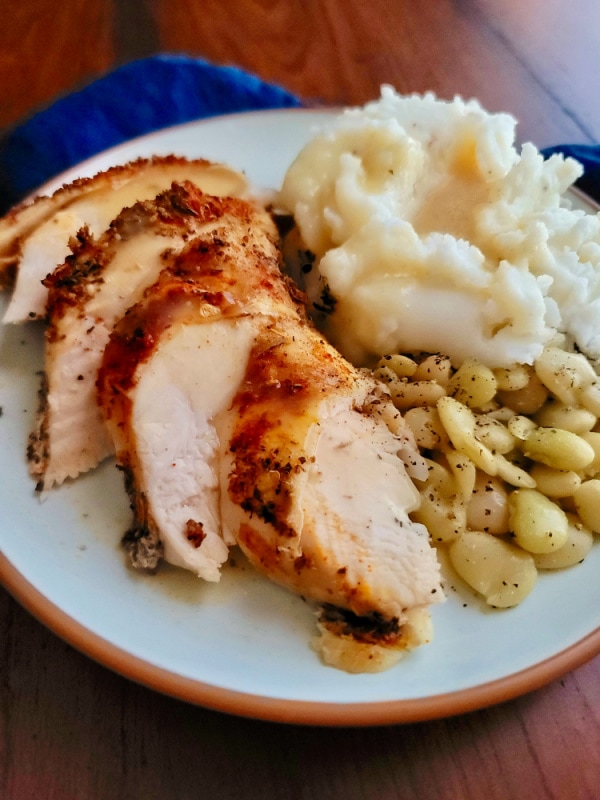 ---
I hope you enjoy my recipe for how to cook split chicken breasts. If you try it, please let me know in the comments below.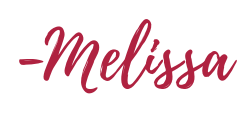 Print
Tender, Juicy Slow Cooker Split Chicken Breasts
---
Author:

Total Time:

0 hours

Yield:

4

-

5

Servings

1

x
Description
Split Chicken Breasts made in the slow cooker that turn out tender, juicy, and flavorful every time!
---
2 teaspoons

salt

3/4 teaspoon

ground black pepper

1 tablespoon

paprika (sweet or smoked)

1 teaspoon

ground cumin

1 teaspoon

garlic powder

1 teaspoon

dried thyme

1 teaspoon

dried basil

1/2 teaspoon

brown sugar (optional)

3

–

4

Split Chicken Breasts (about

2

pounds total, depending on size of chicken breast)

3

stalks of celery, cut into

3

" pieces

2

–

3

carrots, cut into

3

" pieces

1

large onion, peeled and cut into wedges (from root to tip)

1/2

cup

water
---
Instructions
In a small bowl, combine the first 8 ingredients. Rub this spice mixture over the chicken. For extra flavorful chicken, you can rub a little of the spice mixture under the skin of each breast, too, but this is optional.
Add celery, carrots, onions, and water to the bottom of a 6-7 quart slow cooker. Place the chicken breasts on top of the bed of vegetables.
Cover and cook on low until chicken is cooked through and reaches a minimum temperature of 165 degrees Fahrenheit. This will take about 4-5 hours on low, or 2-3 hours on high.
Prep Time:

0 hours

Additional Time:

0 hours

Cook Time:

0 hours