Since Thanksgiving, I've been in the process of cleaning and reorganizing my pantry, and stocking it up for the remainder of fall and the upcoming winter (including the holidays.) And I confess it's a real chore. As much as I try to keep my pantry tidy and neat, it inevitably turns to chaos. Bits of this and that, nearly empty bags of snacks that the family has so kindly left for me, packets of expired yeast, and jars with a small handful of beans in them. It's just reality.
But I try to see it as an opportunity. As I discard any expired stuff and consolidate and reorganize everything else, I can stock it with all of the things I need to see us through holidays and the dark days of winter. Everything to make cozy soups and casseroles, to do my holiday baking, to entertain last-minute guests, and to whip up quick, easy meals when winter colds darken our doors and I feel too blah to cook. The plan is to not have to do a full cleaning and restocking until spring (maybe a little optimistic, but we'll see how it goes).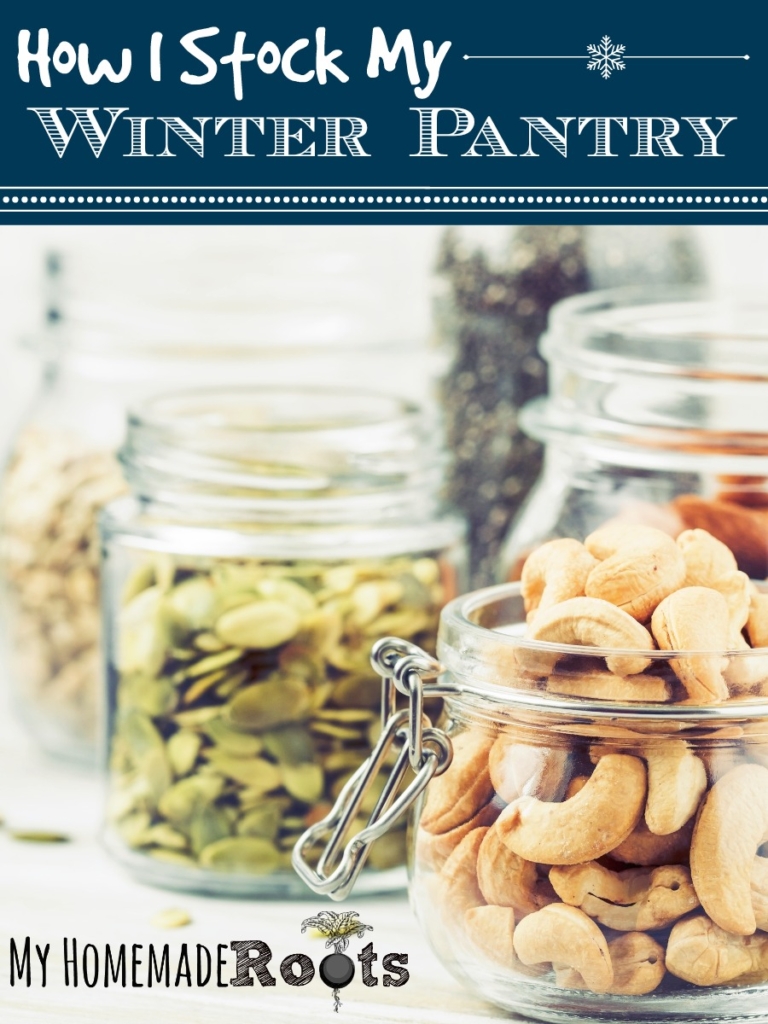 So in this process, I've been compiling a list of the things I'll need for my winter pantry, and I thought I would share. And it's important to note that a fully-stocked winter larder is so important for us because we eat pretty seasonally in our house, and in the winter when the garden is bare, we eat a lot from our food storage. Actually, I rarely buy a fresh tomato in the winter, but I do keep lots of canned and dried tomatoes on hand. And if looks like an impossibly long list, just know that I only go to the grocery store about every two weeks. And when I do go to the store it's typically not a huge haul – mainly just for fresh items (milk, eggs), sale items, special ingredients for a particular recipe, household goods, and to replace a few things I've run out of.
Also, some of the items on my list (some canned tomatoes, canned and dehydrated vegetables, and jellies and jam) are preserved by me over the course of the summer and early fall. And so maybe you're like me and preserve some of your own food, or maybe you strictly buy from the store. It's all good – all of these things are easily purchased at the grocery store (or, as is the case for dehydrated vegetables, online).
Let me also just mention that we have no specific dietary restrictions in our family. We pretty much eat everything. I do, however, keep some gluten-free items in the pantry – some because we just like them, and some because It's nice to have a few things on-hand for when gluten-free friends or family members come to visit. But it goes without saying that if you're using my list for inspiration, you'll need to alter it to suit your family's dietary preferences, allergies, and eating plans.
Before I get to my list, here is my disclaimer: I cook a lot from scratch, it's true. However, I'm no perfectionist. I like to have a few convenience items in my pantry. Sometimes I need to bake something quick when we get unexpected holiday guests, or sometimes the whole house is feeling under the weather and I can barely muster up the strength to boil water. Maybe we have had too much holiday cheer and just want something easy and healthy. Or it could happen that I just don't feel like cooking but don't want to order takeout. I like to be prepared for these inevitabilities and have a few super-easy things at the ready.
Keep in mind, this list is just dry goods – nothing for the fridge, freezer, or root cellar. Now for the list (loosely organized into categories):
[This post contains affiliate links, which means I will earn a commission at no additional cost to you if you click through and make a purchase.]
Winter Pantry List
Ingredients for Soups, Stews, Casseroles, and other Cozy Meals:
Chicken, Beef and Vegetable Base (good for an easy broth or to add extra flavor to homemade stock)
Egg Noodles
Thai rice noodles (gluten-free)
Dried pasta
Couscous
Freeze-dried and dehydrated vegetables and fruits – potatoes, cabbage, carrots, bell peppers, celery, mushrooms, berries, apples )
Canned tomatoes (diced, crushed, and whole)
Tomato paste
Tomato sauce
Canned mixed vegetables (good for pot pies and quick stews)
Canned potatoes
Canned beans
Canned mandarin oranges
Dried beans and lentils
Rice, barley, quinoa, grits, oatmeal, and other grains
Canned coconut milk
Breadcrumbs (store-bought or homemade)
Sauerkraut (the shelf-stable kind)
Canned beets
Oil – I always have olive oil, avocado oil, sesame oil
Vinegar – I always have apple cider, red wine, and balsamic
Kosher salt and sea salt
Black peppercorns
Nut butters
Olives
Artichokes
Roasted Red Peppers
Capers
Canned tuna
Canned salmon
Canned sardines (this one is for our dogs)
Anchovy paste
Condiments – Dijon mustard, organic ketchup, salsa, mayonnaise, prepared horseradish, hot sauce, soy sauce, Worcestershire sauce
Cornmeal and/or masa
Favorite winter spices and dried herbs (in the winter I love star anise, fennel, and smoked paprika)
Grated Parmesan and Romano cheese
Ingredients for Baking and Holiday Gatherings:
All-purpose flour
Whole wheat pastry flour
Baking soda
Baking powder
Cream of tartar
Dry active yeast
Molasses
Maple syrup
Honey
Cane sugar (or alternative sweetener suitable for baking)
Brown sugar
Nuts (for me it's always pecans and walnuts, sometimes hazelnuts or almonds)
Sweetened condensed milk
Evaporated milk
Graham crackers
Spices for holiday cooking and baking – Cinnamon, nutmeg, cloves, allspice, ginger, cardamom, poultry seasoning (I like Bell's)
Raisins and dried cranberries (and/or other dried fruit)
Apple butter
Applesauce
Canned pumpkin
Cocoa powder
Chocolate chips
Convenience Ingredients for Quick and Easy Meals:
A few good quality, premade baking mixes (for last-minute company)
Pasta sauce (store-bought or homemade)
Chili beans
Baked beans
Premade seasoning and spice mixes (store-bought or homemade) – I like to have taco seasoning, ras el hanout Moroccan spice blend, curry powder, creole or cajun, seafood seasoning, chili powder, ham seasoning, Greek seasoning, and za'atar Mediterranean spice blend
Taco shells
Corn tortillas
Canned Organic Soups
Instant rice
Sauces and other special flavors like tikka masala, BBQ, Thai curry paste, lemongrass paste, pesto, mojo
Boxes of macaroni and cheese
Ramen noodles (I buy the plain noodles from the Asian market and add my own broth)
For Entertaining:
Crackers, pita chips, and pretzels (including a box of gluten-free crackers)
Shelf-stable sausage or pepperoni
Jams and jellies – (I make homemade pepper jelly and fig jam)
Beer, wine and/or hard cider (if you drink alcohol)
Coffee
Tea (including herbal)
Shelf-stable non-dairy milk (rice, almond, soy, etc) (for visitors who are dairy-free)
So that's my pantry list for this winter. Because we all have different household needs, you will surely stock your pantry differently from mine, but I hope this list is a good starting point and gives you some ideas. Let me know in the comments how you stock your own pantry for winter.
Cheers!