Both a tasty culinary vinegar and a traditional folk remedy, Fire Cider packs a spicy punch that will warm you to your toes. Its fieriness makes it ideal as a decongestant to loosen phlegm and mucus when you're feeling stuffed up and under the weather. And some people also take a spoonful of Fire Cider daily as a warming health tonic and to help support the immune system when the weather is cold and/or damp.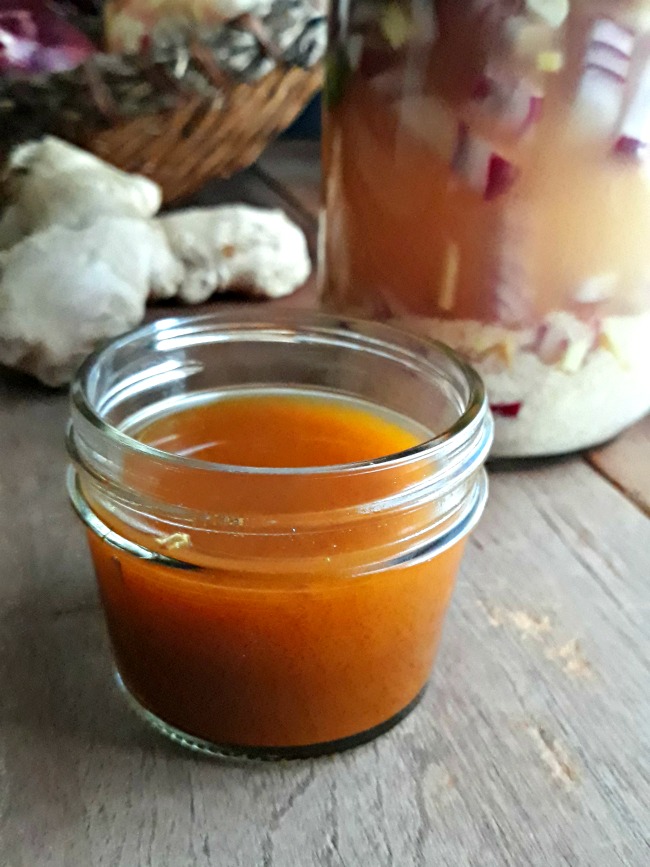 Fire Cider is kitchen medicine at its finest, being made from common ingredients you already have in your kitchen or those that can easily be picked up at the supermarket. And it's also the peoples' medicine – passed along and handed down, and customizable based on what you like, what is in season, and/or what you have on hand.
Vinegar has a long history of use as a health remedy. Hippocrates, the father of modern medicine, used vinegar to treat wounds and persistent coughs more than 2000 years ago. In the 18th century, medical practitioners prescribed vinegar for many ailments including poison ivy and digestive troubles. And the formula for an oxymel, which combines honey and vinegar (Fire Cider falls into the oxymel category), was listed in the German and British Pharmacopeias as late as the 19th century. Another historical vinegar tonic is the well-known Four-Thieves Vinegar with a history that is said to date back to the Middle Ages, where it was it was said to protect grave robbers from the plague. And then there are the vinegar-based switchels and shrubs that were popular beverages/tonics in early America (and which are now enjoying a comeback.)
The recipe I am sharing, however, is not quite so old. This recipe is my take on Rosemary Gladstar's original recipe from the early 1980s. For a bit of background info, Rosemary Gladstar is the renowned herbalist who coined the term Fire Cider and created the original recipe for it. She passed along her recipe during the classes she taught at her school, the California School of Herbal Studies, and from there it became the stuff of legends. As is the way with many good herbal remedies, people have taken the original recipe, gotten creative with it, and made it their own. Popular variations of Fire Cider include the addition of turmeric, elderberries, lemon, herbs, etc. If you're interested in seeing some of these recipes for other versions of Fire Cider, you can grab a copy of Rosemary's Fire Cider book here.
So what I love most about Fire Cider is that it is basically a culinary recipe, made from common food ingredients. And while I've been known to take a shot of Fire Cider straight up on occasion, especially If I feel like I have a cold coming on, or if I am feeling a bit congested, the way I typically use Fire Cider is by incorporating it into my diet. I like to mix a few spoonfuls with olive oil to make a vinaigrette or drizzle a little over my scrambled eggs as a hot sauce. I sometimes stir a little into my bone broth to sip in the evening while snuggled under a warm blanket. It's lovely to add to a cup of hot water with lemon and honey. And in a class I took recently to learn to make Fire Cider, it was suggested that a bit of Fire Cider in your hot cocoa is a fine and delicious thing, and I tend to agree!
As a side note: This is a bit of background I feel I would be remiss in not mentioning. If you are already familiar with Fire Cider and Rosemary Gladstar, you probably already have heard about the legal controversy surrounding the name Fire Cider. I won't tell the whole story here, but I'll sum it up by saying that the name Fire Cider was briefly trademarked by a young upstart company that claimed it as its own. Following a long legal battle that included Rosemary and several other brave herbalists, the trademark has been revoked, and the name returned to the people, where it has always belonged. If you are interested, read more about it here.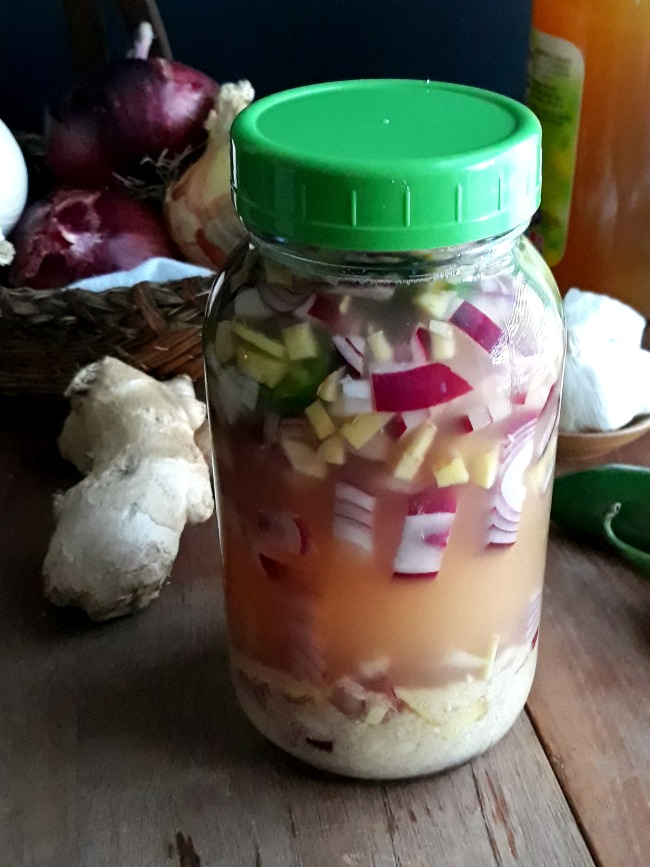 So let's talk ingredients:
Horseradish – A member of the Brassicaceae family (along with cabbages, broccoli, mustard, and radish), it is a root vegetable that is commonly grated and used as a condiment. It has also been used as medicinally for centuries as an expectorant and topically as a poultice to treat arthritis. Be careful grating that horseradish – it WILL open up your sinuses!
Onions – Onions contain the flavonoid quercetin which acts as an anti-inflammatory in the body. Use white, red, yellow, onions, or whatever you happen to have on hand.
Garlic – Research has shown that garlic has antibacterial properties and also boosts immunity. (Plus, it's just super delicious!)
Ginger – Again, super-delicious, but also anti-inflammatory and good for nausea and upset stomachs. You can peel your ginger before grating but I generally don't bother with peeling.
Hot Chile Peppers – Give your Fire Cider some extra fire with hot peppers! Use fresh hot peppers or use dried chile pepper flakes. If using fresh peppers, you can either leave the seeds in for extra spiciness or remove the seeds if you prefer a little milder flavor. You might want to wear gloves for this part!
Apple Cider Vinegar – Practically speaking, you can use any kind of apple cider vinegar for the recipe. I prefer to use raw apple cider vinegar with the mother for my Fire Cider. There are many health claims for raw apple cider vinegar (some of which may or may not be true), but I also just prefer the taste of unfiltered raw vinegar.
Honey – I like to use good quality local honey for my cider. Use your favorite honey for this recipe. If you are vegan, coconut sugar works well as a substitute.
Now on to the recipe, but first a disclaimer: While I view Fire Cider as being a food that also has some health-supportive properties, and as such, is basically safe, I am also not a doctor or licensed medical practitioner. Only you and your doctor know your health conditions and can determine what is right for you. For example, ginger is a common food, but not necessarily good for those who have blood clotting disorders or those who are taking blood thinners. And apple cider vinegar may aggravate heartburn or acid reflux (although there are others who swear that apple cider vinegar helps their reflux). And if you are someone with a generally hot constitution, you may find Fire Cider to be a bit too warming. Use your good judgment and do your research. If you have health conditions, use your medical practitioner's advice in deciding if Fire Cider is safe for you.
---
If you try this recipe for Fire Cider, please let me know in the comments below.
So here's to your good health, and I hope you enjoy!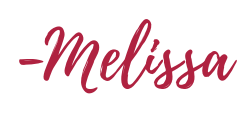 *As an Amazon Associate I earn from qualifying purchases. This post may contain Amazon or other affiliate links, which means I will earn a commission at no additional cost to you if you click through and make a purchase.*
Print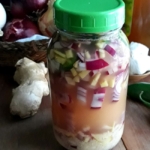 Fire Cider
---
Author:

Total Time:

0 hours

Yield:

1 Quart

1

x
1

large onion, coarsely chopped

¼ cup

finely chopped garlic

½ cup

finely chopped ginger

½ cup

grated horseradish root

1

–

2

jalapenos, sliced or chopped (or chile pepper flakes, to taste)
Optional – 1 sliced lemon
Apple cider vinegar (you'll need about 2-3 cups)
Honey to taste
---
Instructions
Add the chopped vegetables to a quart-size glass mason jar (or double the recipe and add to a half-gallon mason jar.) Pour in enough apple cider vinegar to cover the vegetables by at least 3 inches and swirl to combine.
Seal the jar with a tight-fitting plastic lid. If you don't want to use plastic, cover with wax paper and secure with a rubber band. Avoid using a metal lid because the vinegar may cause the metal to rust. Place jar in a cool, dark place. Let stand for 3-4 weeks, shaking gently every few days.
After 3-4 weeks, strain out the vegetables and reserve the liquid. Gently warm some honey, and add it to the strained Fire Cider to your taste.
Place your cider into a glass bottle or jar, and store in the refrigerator or a cool pantry.
Prep Time:

0 hours

Inactive Time:

0 hours

Cook Time:

0 hours