This Strawberry Buckle recipe is an old-fashioned favorite, similar to a strawberry cobbler. You might also call this a strawberry buckle cake, as it features ripe, sweet strawberries baked into a tender and delicious cake. It's a perfect dessert to make good use of strawberries when they are in season and at their sweetest and best.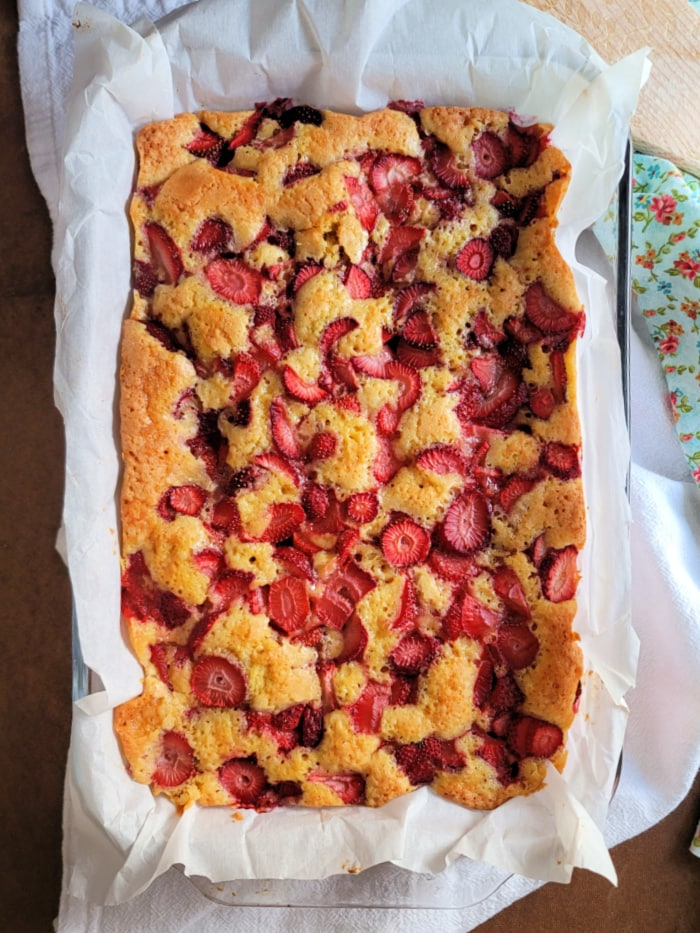 Have you heard of a buckle? A buckle is an early American fruit-filled dessert in the same general family as cobblers, crisps, crumbles, slumps, and grunts. (Because there is a lot of overlap between these old-time desserts, some folks would call this a strawberry cobbler.) It is similar to a coffee cake but typically has fruit mixed into the batter and sometimes has a streusel or crumb topping.
The name "buckle" comes from how the cake buckles or collapses in the middle as it cools. This is caused by the weight of the fruit and topping sinking into the batter as it bakes. I think this buckling gives it a very rustic yet charming appearance.
And while you will most commonly see recipes for a buckle made with blueberries, I decided to use our first local strawberries of the season to make this a strawberry buckle recipe. Also, I added just a little bit of almond flour to the batter to make the cake extra tender and moist, and to lend the cake just a subtle almond flavor. And while many buckle recipes include a streusel topping, I chose to leave it off to let the strawberries' flavor shine through. (If you're interested in a blueberry cobbler recipe, check out my recipe for Skillet Blueberry Cobbler.)
Also, to give credit where credit is due, I want you to know that my recipe is based on a recipe from the book Hope's Table (affiliate link). It's a gorgeous book filled with homestyle recipes, written by a lovely Mennonite woman. If you love homemade recipes, I highly recommend checking it out.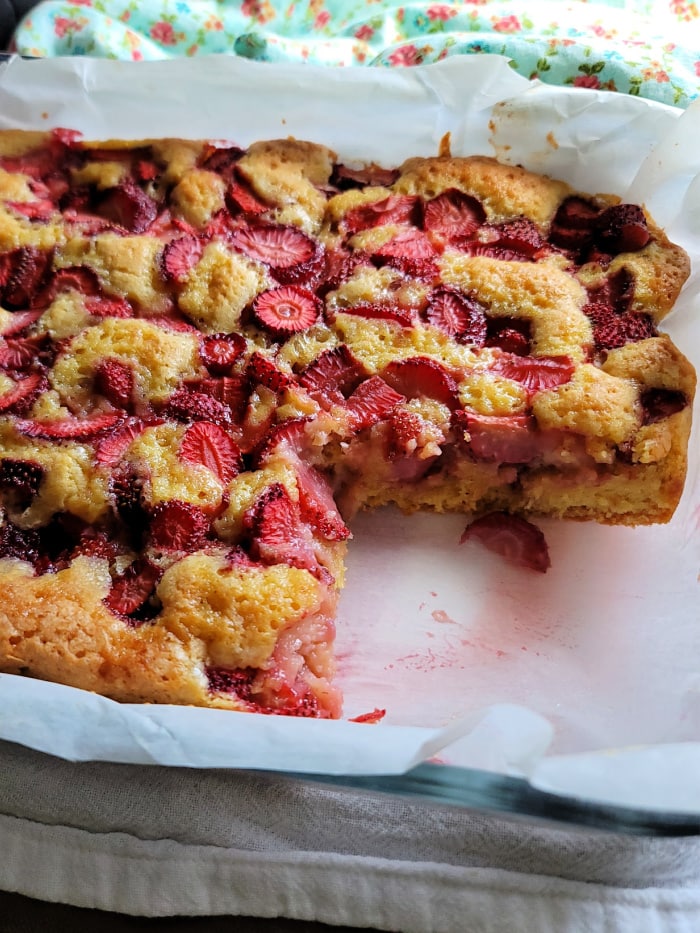 Buckle Variations:
While strawberry buckle is delicious, there are many variations of a buckle. Try other fruits such as blueberries, peaches, or apples. Just be sure to adjust the sugar and spice levels as needed to complement the fruit.
And you can change the recipe according to the seasons. Use cooked, cubed pumpkin or squash for fall. A Cranberry buckle is delicious for fall or winter. And experiment with different spices, such as cinnamon or cardamom, to add more seasonal flavor to your buckle.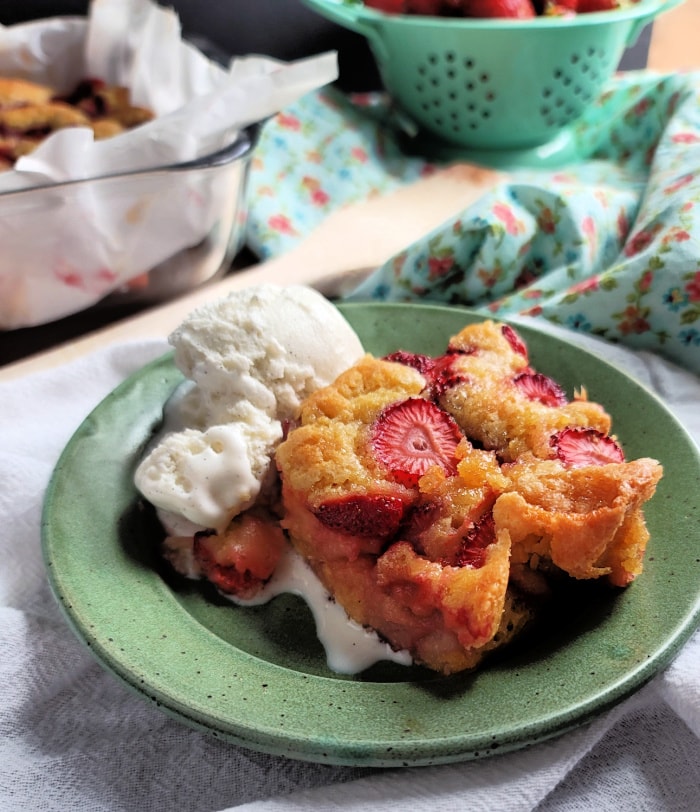 Tips for making Strawberry Buckle:
Use fresh strawberries. The star of the show in a strawberry buckle is the strawberries themselves, so make sure you use fresh, ripe strawberries for the best flavor.
Don't overmix the batter. As with any cake, avoid overmixing, which can result in a tough texture. Mix the batter just until the ingredients are incorporated.
If you don't want to use almond flour in this recipe, you can substitute an equal amount of all-purpose flour.
I use vanilla extract in the recipe because I find the almond extract flavor too strong for my taste. But if you love almond flavor, you can substitute almond extract for vanilla, or add a few drops of almond extract along with the vanilla.
I used salted butter to make the cake, but if you are using unsalted butter, you will need to increase the amount of salt in the recipe from 1/2 teaspoon to 3/4 teaspoon.
Serve warm. Serve the buckle warm with a dollop of whipped cream or a scoop of vanilla ice cream for maximum deliciousness!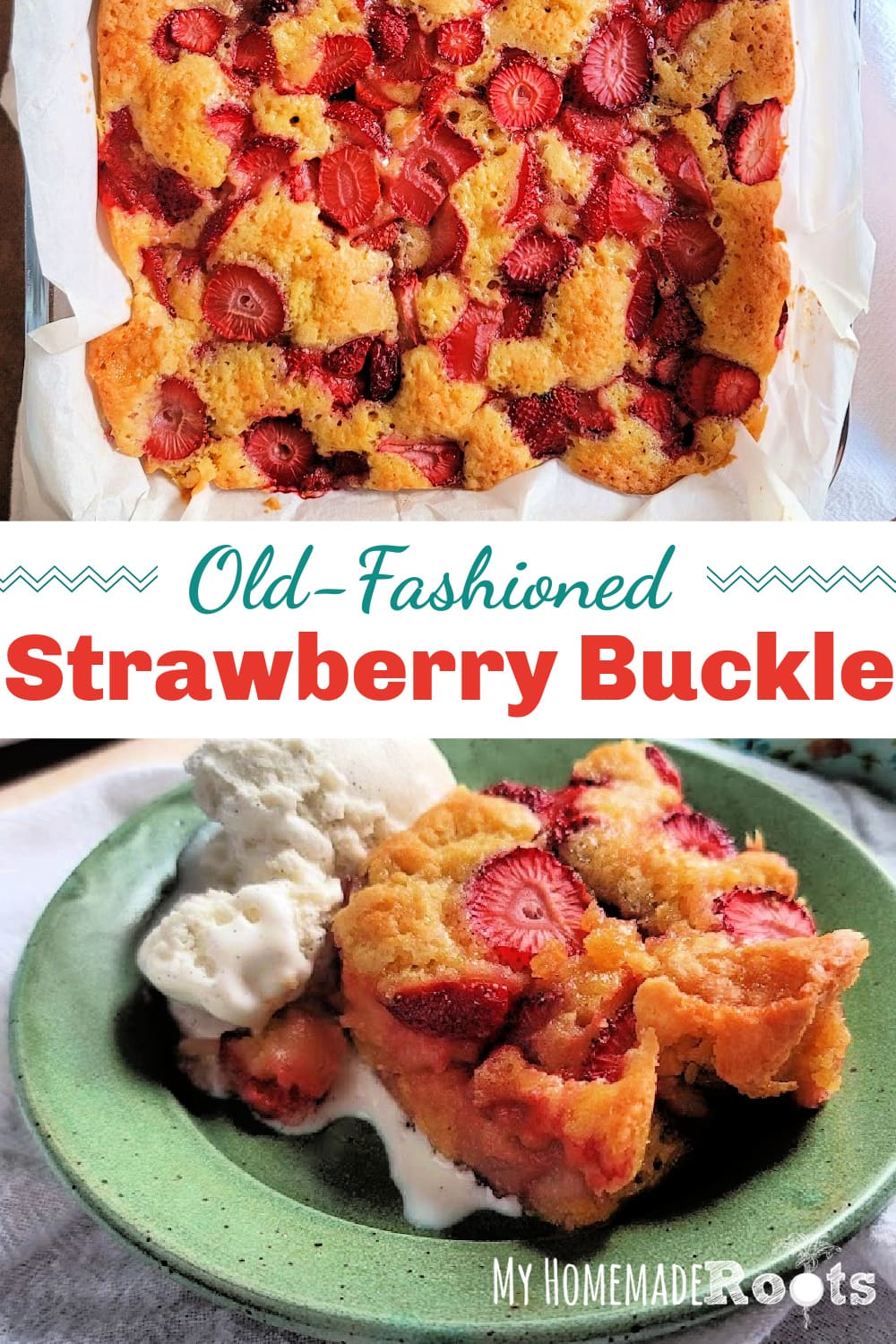 ---
If you try this recipe for Strawberry Buckle Cake, I hope you love it. And follow me on Facebook, Pinterest, and Instagram so you don't miss a post.
*As an Amazon Associate I earn from qualifying purchases. This post may contain Amazon or other affiliate links, which means I will earn a commission at no additional cost to you if you click through and make a purchase.*
Print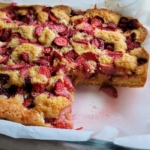 Old-Fashioned Strawberry Buckle
---
Author:

Total Time:

1 hour 30 minutes

Yield:

10

Servings

1

x
Description
This Strawberry Buckle features sweet strawberries baked into a tender, delicious homestyle cake.
---
1/2

cup

butter, softened

1 1/2

cups

+

2

tablespoons

cane sugar, divided

4

eggs, room temperature

2 teaspoons

baking powder

1 teaspoon

vanilla extract

1/2 teaspoon

salt (use

3/4 teaspoon

of salt if you're using unsalted butter)

1 1/2

cups

unbleached, all-purpose flour

1/2

cup

almond flour (or substitute with all-purpose flour)

4

cups

sliced strawberries
---
Instructions
Heat oven to 325 degrees Fahrenheit. Grease a 9 x 13-inch baking pan, or line with parchment paper.
Use an electric hand mixer or stand mixer to cream together the butter and 1 ½ cups of sugar. Continue to mix, adding eggs one at a time, followed by baking powder, vanilla, salt, all-purpose flour, and almond flour.
Spread batter into prepared pan and top with sliced strawberries. Sprinkle with the remaining 2 tablespoons of sugar.
Bake for 1 hour, or until a wooden toothpick inserted into the cake comes out clean.
Prep Time:

30 minutes

Cook Time:

1 hours

Category:

Desserts and Sweets