Grandma's Classic Potato Salad is a timeless recipe I know you're going to love. It's a traditional potato salad recipe that's been a favorite in our family for ages. It has that perfect balance of creaminess with a hint of tang from the mustard and the satisfying crunch of celery. And while the ingredients are humble, this potato salad is packed with flavor. Our summer parties and family gatherings are never complete without a big chilled bowl of this potato salad. If you're looking for a potato salad like your Grandma used to make, give this a try. (And if you love these timeless side dishes, check out my recipe for The Best Old-Fashioned Creamy Coleslaw.)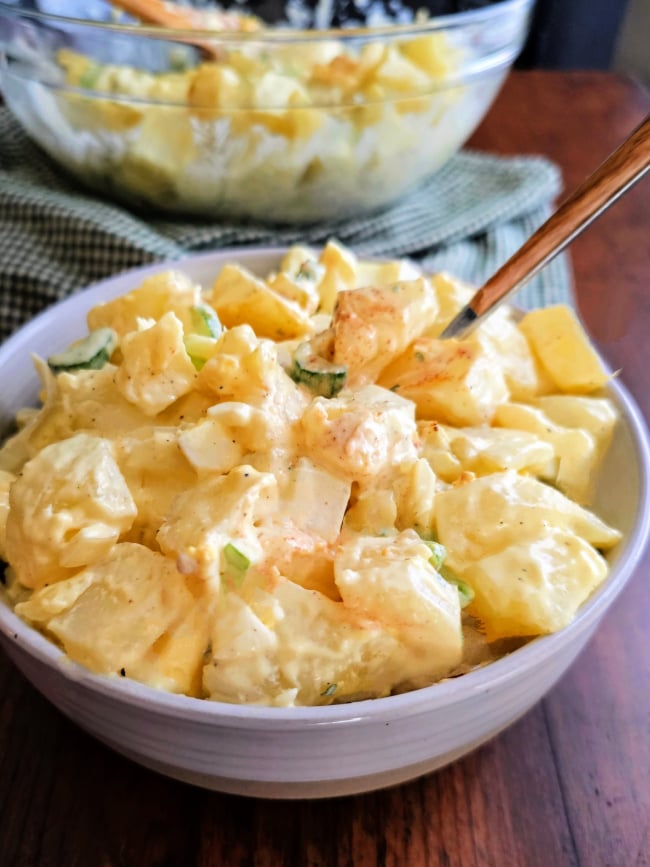 Summer is here, and with it comes the season of backyard barbecues and pool parties. It's a time to gather with friends and family, enjoy the warm weather, and indulge in some delicious food. And really, what's a summer party without a classic potato salad? (But listen, you don't need to save this recipe for summertime. In our house, we make potato salad year-round!)
And while there are countless recipes for potato salad, for me, this simple, old-fashioned potato salad recipe is one of the best. It's nothing fancy, but it's deceptively delicious. And it's one of those dishes that is also loaded with nostalgia. Every time I enjoy this potato salad, it brings back memories of childhood summers, long sunny days, and family gatherings.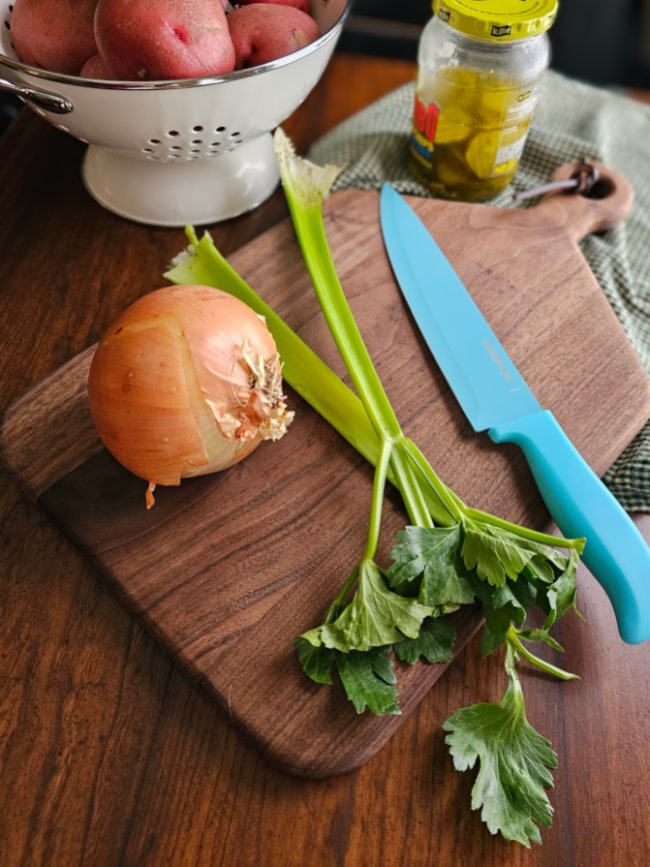 What are the ingredients for Grandma's Classic Potato Salad?
Potatoes – You can use any type of potato you like or have on hand. When possible, I prefer to use a yellow, white, or red potato because they are waxier than russet-type potatoes and hold together better in the salad. If you prefer a softer potato in your salad, go with the russet.
Eggs – You'll need hard-boiled, cooled, and peeled eggs for this potato salad recipe.
Onion – Any type of onion will do, but I prefer the flavor of a sweet onion or a red onion.
Celery – Use fresh, crisp celery in this recipe. Leave the wilted celery for your next pot of soup or stew. Additionally, when it comes to raw celery, I have a few family members who object to its stringiness. To solve this problem, I will sometimes peel the celery before I dice it. This is a totally optional, step, however.
Pickles – I use my homemade bread and butter pickles for this recipe. Sweet pickles will also work. If you are avoiding sugar, you can use dill pickles but the flavor of the potato salad will be a bit more tart (but still delicious!)
Pickle Juice – I use the juice from the jar of pickles. If you don't want to use pickle juice, you can use vinegar. But for the best flavor, stick with apple cider or red wine vinegar. I advise you not to use distilled white vinegar as the flavor is a bit harsh and overpowering here.
Mayonnaise – Use your favorite store-bought or homemade mayonnaise. I know some people prefer salad dressing like Miracle Whip in their potato salad, but I prefer real mayo in this recipe. This is your potato salad, however, so go ahead and use what you like.
Mustard – Regular yellow mustard works well. But you can use Dijon, whole grain, spicy brown, or whatever mustard you prefer. For an extra flavor kick, try using horseradish mustard.
All-Purpose Seasoning Blend – A few dashes of a seasoning blend gives this salad just a little extra flavor. You can use any kind of blend you like. I typically use Morton's Nature Seasons, Old Bay, or Lawry's Seasoned Salt. If you are limiting salt, use a salt-free blend like Mrs. Dash. And if you like a little spiciness, try a Cajun seasoning.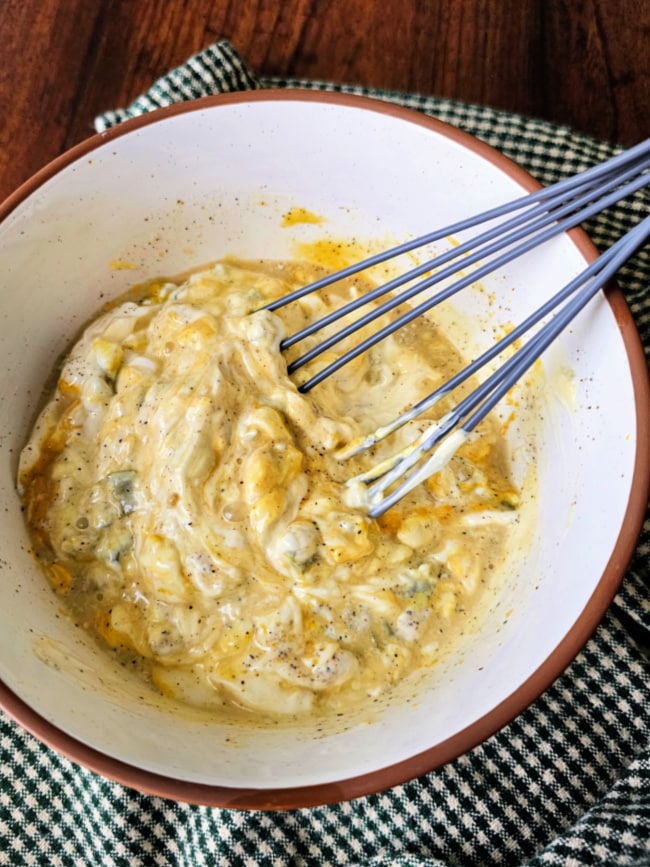 Tips for making the best potato salad:
Cooking the potatoes. There seems to be a bit of debate about the right way to cook potatoes for potato salad. One method is to cook the potatoes whole, then allow them to cool before peeling and chopping. The other method is to peel and chop the potatoes before cooking. I have tried both methods and I think either way works fine. Do what works best for you.
Don't overcook the potatoes. You can test a potato by jabbing it with a fork or knife. There should be some resistance. You want the potatoes to be slightly firm instead of mushy. Think of it like pasta and cook the potatoes al dente.
Smash up 3 of the hard-boiled eggs and add to the dressing. This makes the dressing extra creamy and delicious. Slice the remaining egg and lay the slices as garnish across the top of the potato salad for a pretty presentation.
Be sure to generously season the potato salad with salt, pepper, and other seasonings. Because potatoes are a blank slate that will really soak up the salt and other seasonings, you'll end up with a bland salad if you underseason.
Dress the salad while the potatoes are still warm, but not hot. If you add the dressing to warm potatoes, it will help the potatoes to absorb the dressing more effectively. If the potatoes are too hot, however, the heat will cause the mayonnaise to separate and the salad will be oily.
Change up the flavor by adding fresh herbs like chopped parsley, tarragon, or dill. Some cooked and crumbled bacon can be added to the salad to make it extra savory.
Refrigerate the potato salad for 2-3 hours before serving. This allows time for the flavors to meld and make the potato salad more delicious.
Give the salad a beautiful presentation with a sprinkle of paprika and/or chopped fresh herbs.
Store the potato salad in the refrigerator for up to 3 days. Do not allow it to sit out for extended periods of time.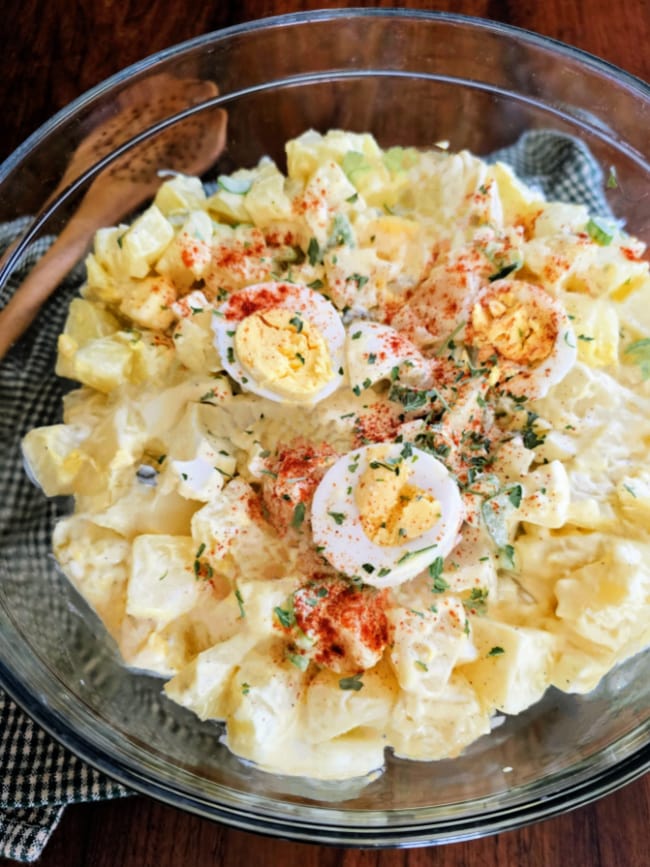 ---
If you try this recipe for Grandma's Classic Coleslaw, I hope you love it. And follow me on Facebook, Pinterest, and Instagram so you don't miss a post.
*As an Amazon Associate I earn from qualifying purchases. This post may contain Amazon or other affiliate links, which means I will earn a commission at no additional cost to you if you click through and make a purchase.*
Print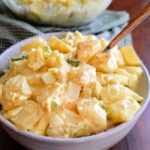 Grandma's Classic Potato Salad
---
Author:

Total Time:

2 hours 50 minutes

Yield:

12

Servings

1

x
3

pounds

of potatoes, peeled, cooked, and chopped (see note below about cooking the potatoes)

4

eggs, hard boiled

1

medium onion, finely diced

3

ribs celery, finely diced (or sliced if you prefer)

1/4

cup

bread and butter or sweet pickles, finely diced

2 tablespoons

pickle juice

3/4

cup

mayonnaise

2 tablespoons

yellow mustard

1

–

2

teaspoons all-purpose seasoning (like Morton's Nature Seasons, Lawry's, or Old Bay)

2 teaspoons

salt

1/4 teaspoon

ground black pepper

1/2 teaspoon

paprika
---
Instructions
Cook and chop the potatoes. Set them aside to cool.
In a mixing bowl, use a fork or potato masher to smash 3 of the 4 hard-boiled eggs. Add the remaining ingredients. Stir to thoroughly combine the dressing.
When the potatoes are cool, but still slightly warm, gently fold them into the dressing. Transfer the mixture to a clean serving bowl.
Slice the remaining egg and lay the slices across the potato salad as a decorative garnish. Sprinkle with paprika.
Chill for 2-3 hours before serving.
Store the potato salad in the refrigerator for up to 3 days.
Notes
There are two methods to cook potatoes. The first method involves peeling and dicing the potatoes, then boiling them in salted water until they are almost fork-tender. Once cooked, drain the water and cool the potatoes until they are just warm. Alternatively, you can boil the potatoes with their skins on, then wait until they are cool enough to handle before peeling and chopping them. You can choose to dice the potatoes into small or large pieces, depending on your preference, but it's essential to ensure that they are cut into uniform sizes.
Prep Time:

30 minutes

Chill Time:

2 hours

Cook Time:

20 minutes