So what exactly is a Dutch Baby? A pancake? A popover? I would argue that it's both. A puffy pancake, cooked in a skillet, but with a yummy custardy texture (similar to a popover or Yorkshire pudding). Either way, pancake or not, don't think of this Dutch Baby as just a breakfast food  – it's perfect for breakfast, lunch or dinner.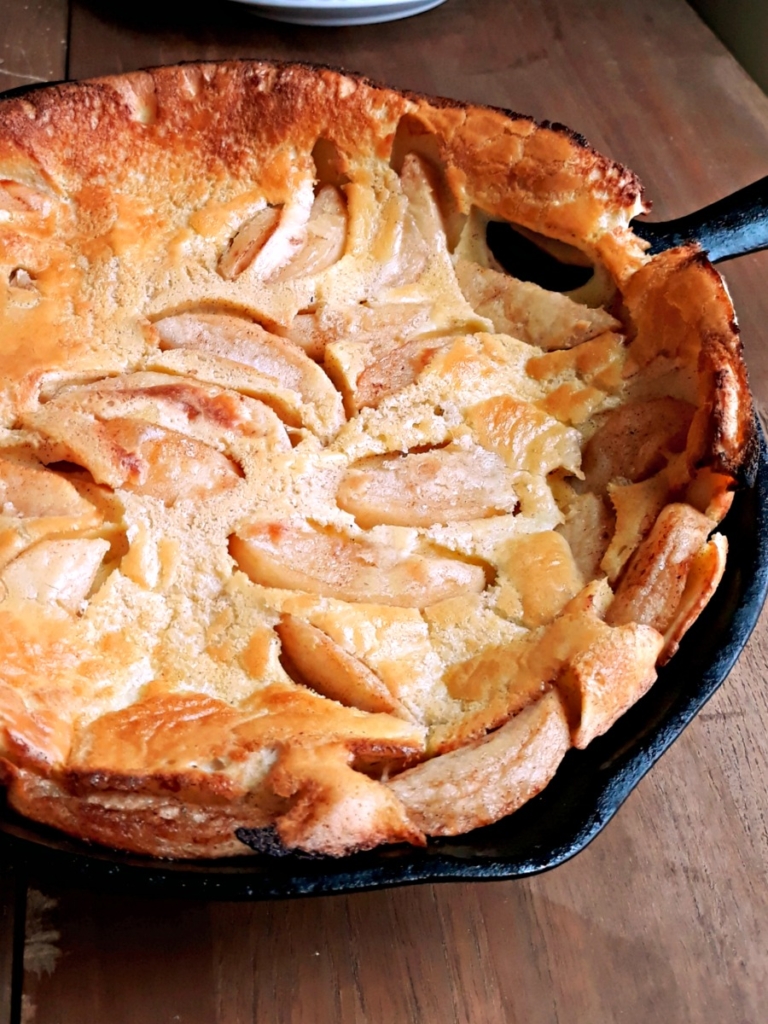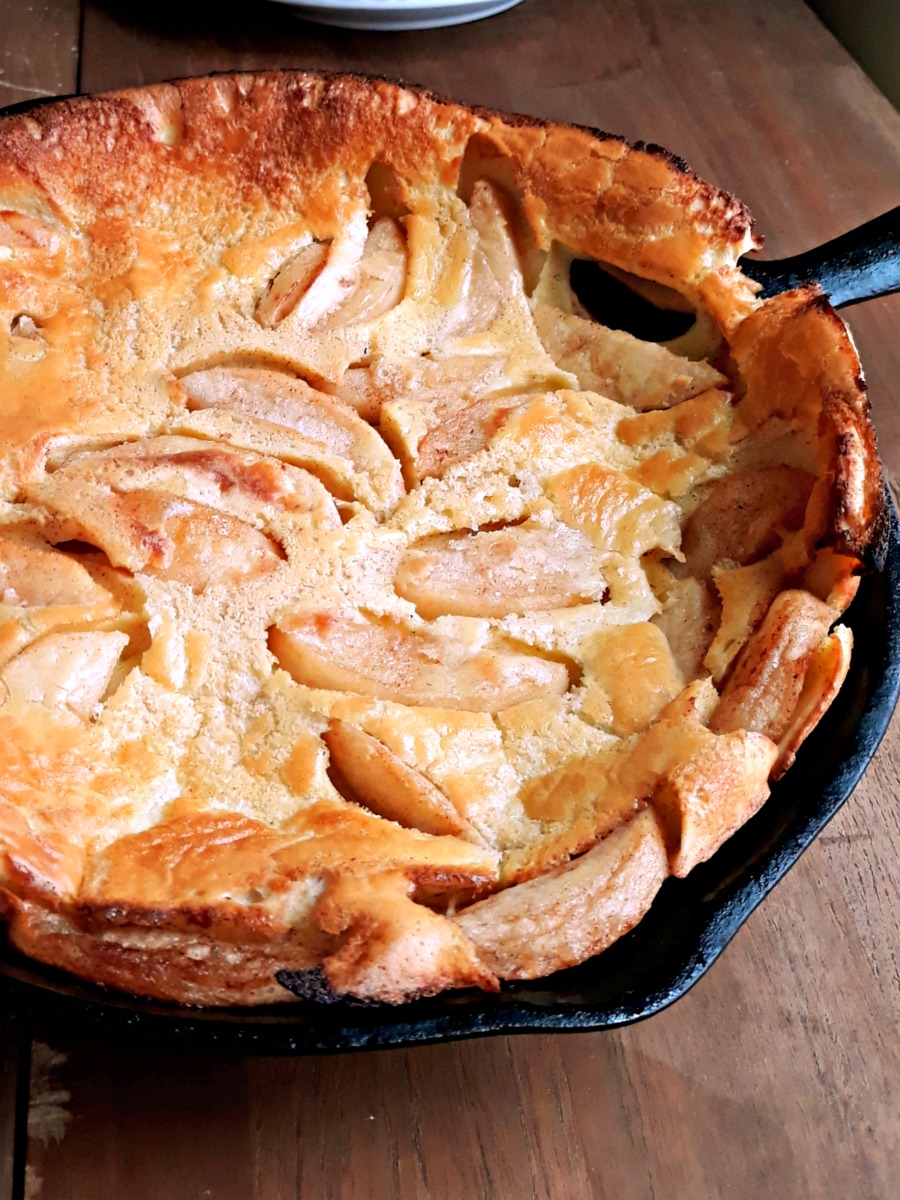 This Dutch baby is filled with warm apples cooked right into the pancake, with just a hint of sweetness and a touch of cinnamon. And because it's made in one skillet in the oven, it really is pretty quick and easy to prepare. When I'm craving pancakes, but I don't feel like standing over a hot stove flipping them individually, a Dutch Baby is just the thing. I love to serve it with a side of crispy bacon for an easy supper.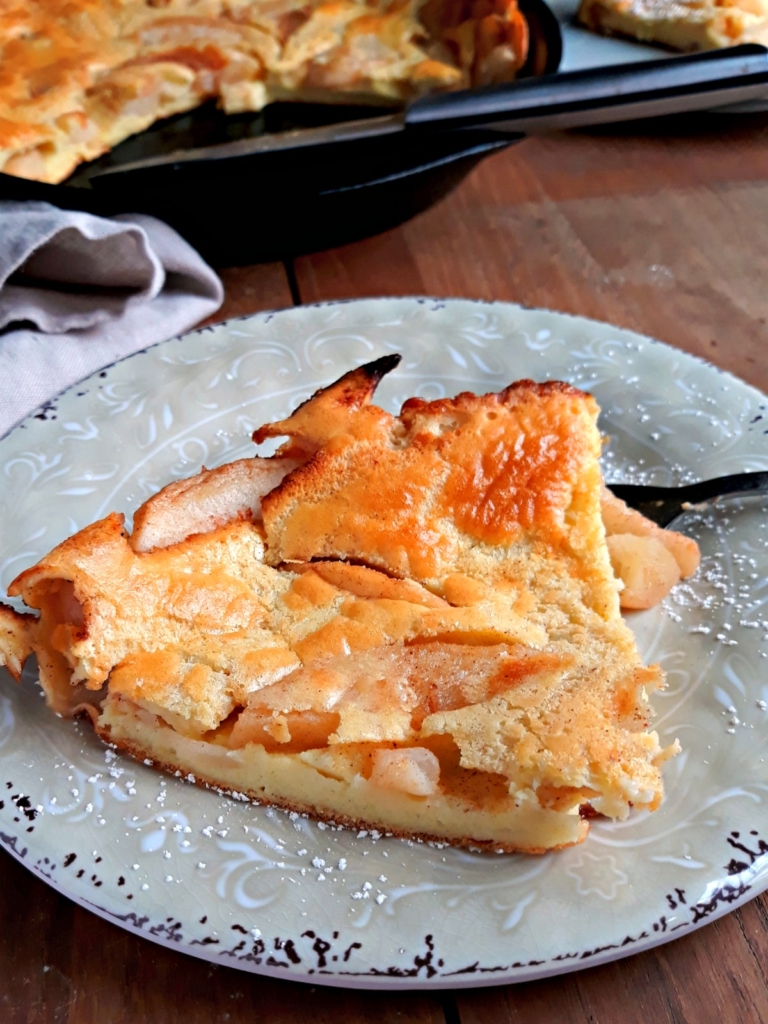 COOK'S TIPS:
Be sure to use a heavy, oven-safe skillet. A 10-inch cast iron pan works perfectly.
Make sure your pan is HOT when you pour in the batter. Do this carefully, so that you don't burn yourself. And don't forget the oven mitts!
Serve with your favorite toppings. A Dutch Baby is traditionally topped with powdered sugar and a squeeze of lemon, but I like mine with maple syrup. Use your favorite pancake toppings or be creative!
I hope you enjoy!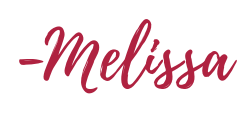 Ingredients
⅔ cup milk
3 eggs
½ cup + 2 tablespoons flour
½ teaspoon vanilla
½ teaspoon salt
Pinch of nutmeg
3 tablespoons butter
2 apples, peeled, and sliced (about ¼-inch thick)
¼ teaspoon cinnamon
1 tablespoon maple syrup
Instructions
Place rack in the middle of oven. Heat oven to 425°F.
Add milk, eggs, flour, vanilla, salt and nutmeg to an electric blender, and blend for 45 seconds, or until smooth. Set batter aside.
In a 10-inch cast iron skillet (or other oven-safe pan), melt butter on stovetop over medium-low heat. Stir in sliced apples and cinnamon, and saute for 8-10 minutes, or until apples are soft (but not mushy). When apples are softened, stir in maple syrup.
Turn off heat, and spread apples evenly over the bottom of the skillet. Immediately, while skillet is still very hot, pour batter over apples (do this carefully so that you don't splatter and burn yourself).
Place hot skillet into the oven, and bake for 20 minutes, or until the Dutch baby is puffy and golden.
Remove from oven and cool for 5 minutes. Serve with your favorite toppings
https://myhomemaderoots.com/apple-dutch-baby/
This post may contain affiliate links, which means I will earn a commission at no additional cost to you if you click through and make a purchase.